Drott Lodge Swedish Bazaar
Saturday, Nov. 3, 2018
11:00 AM to 2:30 PM
St. James Episcopal Church
11815 Seven Locks Road
Potomac, Maryland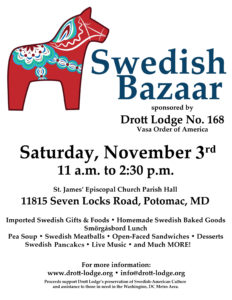 To view PDF file, Click Here
Smorgasbord - features hot meat balls and potatoes, pea soup, open-faced sandwiches, & desserts
Imported Food - cheese, herring, chocolates
Imported Gifts - Christmas and other items
Baked Goods - limpa bread, kringles
Norwegian Christmas Bazaar - Julemarked
Friday, Nov. 9, 2018
1:00 PM to 6:00 PM
Saturday, Nov. 10, 2018
10:00 AM to 5:00 PM
Emanuel Lutheran Church
7730 Bradley Blvd
Bethesda, Maryland
Lasse Syversen: 301-641-7908
lasse@flagship.com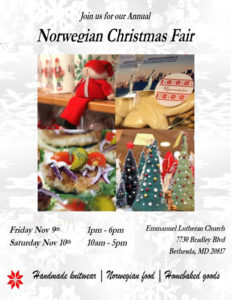 To view PDF file, Click Here
Enjoy Norwegian food, open sandwiches, marzipan cake, fresh waffles, coffee and tea, solo! Saturday we will also serve warm Norwegian rice pudding with sugar, cinnamon and butter in addition to the other treats. Do your holiday shopping of Christmas food, chocolate, Scandinavian Christmas gifts, Scandinavian sweaters, Rosemalings products, jewelry, ornaments, Scandinavian Christmas decorations and a lot more!
Annual Danish Christmas Bazaar
Saturday, Nov. 10, 2018
11:00 AM to 3:00 PM
St. Elizabeth's Church
917 Montrose Rd
Rockville MD
www.danishclubdc.org/bazaar.shtml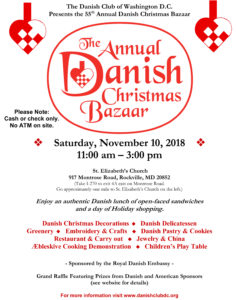 To view PDF file, Click Here
Enjoy an authentic Danish luncheon in our cafe or bring home sandwiches from our carry out counter. Enjoy a day of holiday shopping with aebleskive cooking demonstration and grand raffle.
Open-faced sandwiches, pastry, apple cake, aebleskiver
Deli with imported Danish foods
Decorations, embroidery
Jewelry and china
Icelandic Christmas Bazaar
Islenskur Jolabasar
Saturday, Nov. 10, 2018
10:00 AM to 3:00 PM
American Legion Post 177
3939 Oak St.
Fairfax, Virginia
icelanddc@hotmail.com
www.icelanddc.com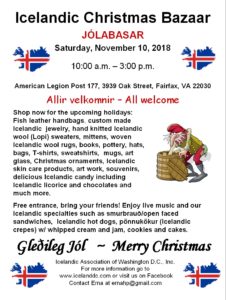 To view PDF file, Click Here
Velkomin - Welcome
Come discover "The Land of Fire and Ice"
Imported Crafts
Handmade Icelandic Woolens
Icelandic Holiday Decorations
Traditional Icelandic Foods
Finnish Bazaar
Saturday, Nov. 17, 2018
11:00 AM to 3:00 PM
River Road Unitarian Church
6301 River Rd
Bethesda, MD
703-642-2181
www.finnspark.org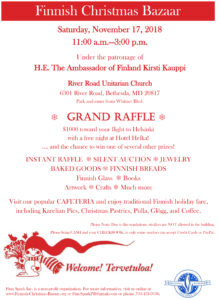 To view PDF file, Click Here
Opening by H.E. Kirsti Kauppi, Ambassador of Finland to the U.S.
Marimekko ittala glass
Finnish foods & baked goods
Crafts & Books
Silent Auction
Grand Raffle
Norwegian Holiday Festival & Bazaar
Friday, Dec. 7, 2018 
10:00 AM to 6:00 PM
Saturday, Dec. 8, 2018
9:00 AM to 4:00 PM
Christ Lutheran Church
3810 Meredith Dr.
Fairfax, VA
703-573-5943
Web: www.norwaydc.org/events/bazaar
Live musical entertainment
Norwegian cafe, serving Rommegrot, Pea Soup, Rice Pudding, Lefse, and more
Home baked pastries and breads
Norwegian sweaters, T-shirts, linens, and more
Rosemaling & jewelry
Food products - Lutefisk
CDs & books (in English)
Swedish Christmas Bazaar
Saturday, Dec. 1, 2018
11:00 AM to 4:30 PM
House of Sweden
2900 K Street NW
Washington, DC
sweapr@gmail.com
washingtondc@swea.org
Web: www.swea.org
St. Lucia at 5:00 pm (Swedish Choir)
Children's room for play and making decorations
Swedish artwork, crafts, crystal, textiles, books, baked goods,
Delicacies at the popular Swedish
Cafe
Amazing raffle prizes
ASA Christmas Bazaar and St. Lucia Festival
Saturday, Dec. 8, 2018
St. James Episcopal Church
11850 Seven Locks Road
Potomac, Maryland
Download the flyer
St. Lucia at 5:30 PM in the Sanctuary
The MOST beautiful St. Lucia festival in the DC area with mostly Swedish Au Pairs singing
Bazaar at 6:00 PM in the Parish Hall
Dancing around the Christmas tree
Santa Visit with children's gift bags
Nordic Dancers
Drott Lodge St. Lucia Pageant and Jul Fest
Sunday, Dec. 9, 2018
St. James' Episcopal Church
11815 Seven Locks Rd.,
Potomac, Maryland
Web: www.drott-lodge.org
Children's St. Lucia at 3:00 PM in the Sanctuary. The Lucia is followed by a holiday party in the undercroft with dancing around the Christmas tree and Santa's visit with gift bags for the Children.
To take part in the Lucia or attend the Holiday, Party, you must register with Carol Whitley at carol4600@verizon.net
or call 202-686-6214.
10th Annual Nordic Christmas Service
Sunday, Dec. 24, 2018
2:30 PM
Augusta Lutheran Church
2100 New Hampshire Ave, NW
Metro: Green Line to Cardoza
Parking: V St, Vermont Ave, Florida Ave, and 16th St
Free, covered parking is also available in the Frank D. Reeves Municipal Center on U St NW midway between 14th and 15th Sts
(Bring this flyer for entry to free parking or mention Swedish Church to attendant)
Collect to benefit Martha's Table and Augustana Church (Please make checks to Swedish Church)
COME AND ENJOY!
The Sunday school children will light the Advent wreath.
We will hear the familiar texts from Isaiah and St Luke.
We will sing lots of hymns and carols, sometimes in
Swedish, Norwegian, Finnish, Icelandic, and Danish!
Local Nordic community Musicians, both singers and
instrumentalists, enhance the service with their talents.
The Swedish Lutheran Church of Washington DC
The Norwegian Church Service in Washington DC
The Finnish Lutheran Church Washington DC
The Icelandic Church Abroad
The Danish Church Abroad
All invite you to join with us.